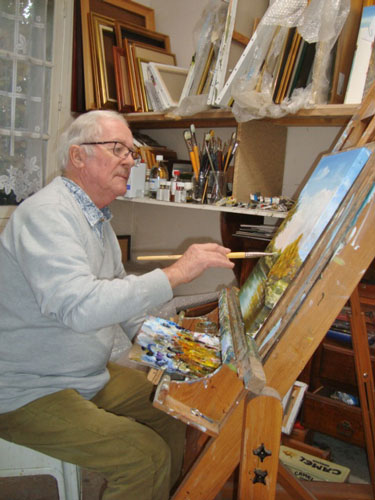 Albert Forissier was born in 1941 and is a retired executive manager in the industry. His education as an industrial designer(15 years of study in a research department) played a great influence on his taste for sketching. He chose subjects which make him especially draw perspectives. He is a landscape painter. He practices 3 disciplines: oil,water color and pastel drawing.
His paints are present in USA, Great Britain, Germany and Italy.
As he was very young, Albert Forissier discovered a passion for painting in admiring ( with envy) the works of a teacher as he was a pupil by the Auteuil Apprentices Orphans.
He lives in Provence, his original region which inspires him but he also likes the light in Britanny which his wife made him discover..
Who did not make everlasting the dream of having his house or a piece of a pecularly loved landscape by the means of a painting? From a good photography, Albert Forissier can make your dream come true.
Albert Forissier took part in many local competitions and won several awards.